WASHINGTON, DC, August 7, 2012 (ENS) –

Federal nuclear regulators today froze at least 19 final reactor licensing decisions in response to a ruling by the U.S. Court of Appeals for the DC Circuit that spent nuclear fuel stored on-site at nuclear power plants "poses a dangerous, long-term health and environmental risk."
In its ruling

,

the appeals court invalidated the U.S. Nuclear Regulatory Commission's 2010 updates to the Waste Confidence Rule and also the Temporary Storage Rule and directed the commission to fully comply with federal law.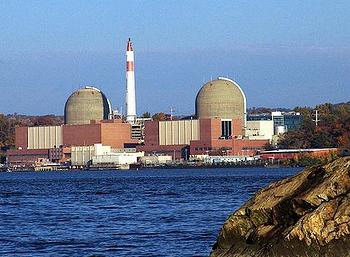 Relicensing of reactors 2 and 3 at Indian Point
nuclear power plant are among those put on hold
by the NRC. (Photo courtesy Entergy)
Environment News Service (http://s.tt/1krx0)
In response, the NRC today put a hold on nine construction and operating licenses, eight license renewals, one operating license, and one early site permit.
The court noted that, after decades of failure to site a permanent geologic repository, including 20 years of working on the now-abandoned Yucca Mountain repository in Nevada, the NRC "has no long-term plan other than hoping for a geologic repository."
Environment News Service (http://s.tt/1krx0)
Therefore, it is possible that

spent fuel will be stored at reactor sites "on a permanent basis," the court said.
In its order today, the five-member NRC said, "Waste confidence undergirds certain agency licensing decisions, in particular new reactor licensing and reactor license renewal."
"Because of the recent court ruling striking
down our current waste confidence provisions, we are now considering all available options for resolving the waste confidence issue, which could include generic or site-specific NRC actions, or some combination of both," the agency said. "We have not yet determined a course of action."
"In recognition of our duties under the law, we will not issue licenses dependent upon the Waste Confidence Decision or the Temporary Storage Rule until the court's remand is appropriately addressed," the NRC said.
The NRC's order extends only to final license issuance. "All licensing reviews and proceedings should continue to move forward," the agency said.
https://fbcdn-sphotos-g-a.akamaihd.net/
hphotos-ak-ash3/c0.0.400.400/p403x40
3/539254_472855986065974_886434092_n.jpg
The case was originally brought to the appeals court by four states led by New York State, as well as a native Indian community and several environmental groups.
New York Attorney General Eric Schneiderman brought legal action against the NRC because of his concerns about Entergy's relicensing application for two reactors at Indian Point power plant on the Hudson River at Buchanan, New York, just 24 miles north of New York City. Entergy's license to operate Indian Point expires on September 28, 2013.
Schneiderman said today, "The storage of nuclear waste at nuclear power facilities poses long-term health and environmental risks, including the risk of leaks from spent fuel pools and fires. Despite this, the NRC has refused my repeated requests to address the serious risks
of long-term, on-site storage of nuclear waste in Indian Point's relicensing proceeding."
"In light of my recent federal appeals court victory and a related contention I filed last month in the relicensing proceeding, however, it appears that the NRC has finally changed course. Today, in a victory for the 17 million people living and working close to Indian Point, the NRC has committed to addressing the risks posed by long-term nuclear waste storage at the facility before making any relicensing decisions," Schneiderman said.
The NRC also received "a series of petitions" on this matter, including one filed June 18 by 24 groups from across the United States urging the agency to respond to the court ruling by halting final licensing decisions until it has completed a rulemaking on the environmental impacts of spent nuclear fuel.
In hailing the NRC action in a statement today, the groups said that most of the 19 reactor projects are already "essentially sidetracked by the huge problems facing the nuclear industry, including an inability to control runaway costs, and the availability of far less expensive energy alternatives."
Former NRC Commissioner Peter Bradford said, "It is important to recognize that the reactors awaiting construction licenses weren't going to be built anytime soon even without the court decision or today's NRC action. Falling demand, cheaper alternatives and runaway nuclear costs had doomed their near term prospects well before the recent court decision."
"Important though the court decision is in modifying the NRC's historic push-the-power-plants-but-postpone-the-problems approach to generic safety and environmental issues, it cannot be blamed for ongoing descent into fiasco of the bubble once known as 'the nuclear renaissance,'" said Bradford, who now teaches law at Vermont Law School and serves as vice-chair of the Union of Concerned Scientists.
Diane Curran, an attorney representing some of the groups in the Court of Appeals case, said, "When the federal appeals court ordered NRC to stop and consider the impacts of generating spent nuclear fuel for which it has found no safe means of disposal, the agency could choose to appeal the decision by August 22nd or choose to do the serious work of analyzing the environmental impacts over the next few years. With today's commission decision, we are hopeful that the agency will undertake the serious work."
Lou Zeller, executive director of Blue Ridge Environmental Defense League, a petitioner to the court, said, "It appears that the commissioners have, at least initially, grasped the magnitude of the court's ruling and we are optimistic that it will set up a fundamentally transparent, fair process under the National Environmental Policy Act to examine the serious environmental impacts of spent nuclear fuel storage and disposal prior to licensing or relicensing nuclear reactors."
The petitioners had asked for assurance that they will be able to participate in future NRC waste confidence proceedings. "We hereby provide that assurance," the agency said in its order. "The public will be afforded an opportunity to comment in advance on any generic waste confidence document that the NRC issues on remand."
The NRC acknowledged that it will be in court again over its site-specific waste confidence actions and that it is "now in receipt of a number of new contentions and associated filings concerning waste confidence."
Original http://ens-newswire.com/2012/08/07/u-s-freezes-all-nuclear-power-plant-licensing-decisions/
https://fbcdn-sphotos-b-a.akamaihd.net/
hphotos-ak-ash4/190019_101510888826
71941_838845067_n.jpg